Best Squeeze Page Or Sales Page WordPress Themes
The main purpose internet marketers use squeeze or landing sales pages is to sell a product or capture the visitors information (example : name, email address etc.,) for follow up marketing or to get more leads and make more money ( For example : We have build a landing book sales page to one of our client the main goal behind the project was to get more users sign up for emails and hence get more leads. We have used aweber as a autoresponder, utilized to send a series of follow-up emails and to provide an immediate download link to get the free information).
There are many different opinions on the long squeeze pages or sales letter pages some users like this and some just don't. But the reason many internet marketers use this technique because it converts very well. Some advanced internet markets also use audio, video, autoresponders, high end graphics , testimonial etc., in their landing product page.
If you want to build high quality sales page, landing page, squeeze page, splash page, bonus page, one time offer page or a product launch page. Then wordpress is the best option to quickly create wp site into a high converting landing page. Here we have selected best premium high quality sales page wordpress themes for your next marketing project. Choose the wordpress theme or plugin which best suits to your needs.
[col_2_3 style="box border box_yellow"]
Do you know we also provide wordpress squeeze page Or sales page setup services take a look at complete features or you can also contact us for a free quote today.
[/col_2_3]
1. OptimizePress
Optimizepress is one of the best squeeze page wordpress theme. Many of the World's top Internet Marketers, Experts, Speakers and Coaches choose OptimizePress to build their sales pages, launch funnels, membership sites or squeeze pages. Even we have used optimizepress for many of our clients site.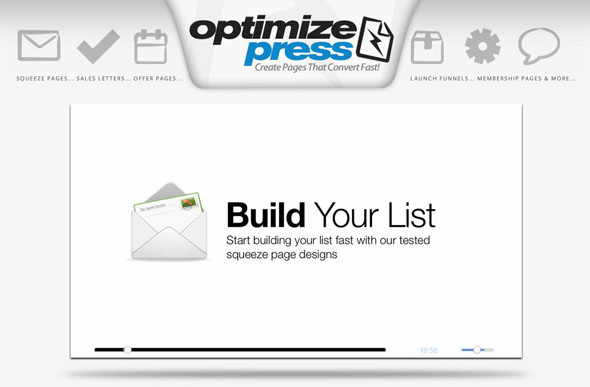 Features of Optimizepress WordPress Theme :
Quickly and easily build squeeze pages, sales page, landing page, bonus page, one time offers page etc., One of the fabulous thing is optimizepress comes with default over 10 tested and proven designs for your squeeze pages or landing pages to increase your optin rate and build your list much more faster.
Simple Autoresponder Integration, just insert your web form HTML from your autoresponder into their special field and the system will hook it up with your squeeze pages, no complex coding required.
Easy to Follow Training & Tutorials.
iPad & iPhone Video compatibility.
Facebook Comments & Sharing.
Build Awesome Membership Sites.
Built in SEO.
Price : $97
Buy OptimizePress
Get Free WordPress Setup
2. Premise
Premise is an awesome wordpress plugin which empowers to quickly and easily build landing pages and membership sites. One of the main advantage of premise premium wordpress plugin is it can used with any theme framework. Premise is a product from CopyBlogger Media, the same team who has created amazing genesis theme framework for wordpress. On premise website you can also have a look at landing page showcase to get some ideas on how people have used it.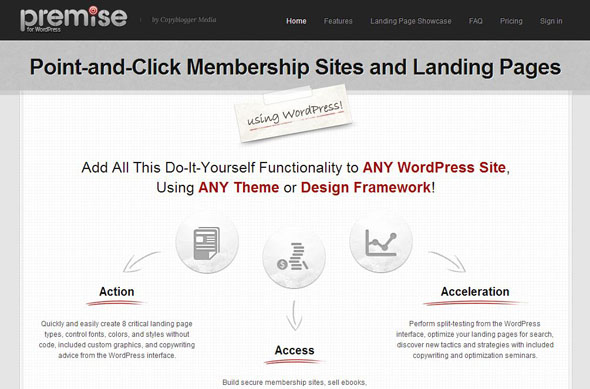 Features of Premise WordPress plugin:
Quickly create sales, social, email, video, content, pricing and tabbed landing pages.
1,100+ custom graphics by Rafal Tomal.
Build rock-solid membership sites with WordPress.
Confidently create private forum areas with vBulletin.
Take recurring payments with automated access management.
Quickly set up password-protected content libraries.
Automatically drip content out over time.
Easily build check-out pages (squeeze page, landing page or product page) for PayPal and
Authorize.net.
Securely sell eBooks, apps, and other digital downloads.
Easy split-testing from WordPress.
Price: $165 (Membership gateways & Unlimited sites).
Buy Premise
Get Free WordPress Setup
3. FlexSqueeze
FlexSqueeze is the ultimate WordPress theme for creating custom sales pages and niche sites. FlexSqueeze has built in 15 sales page designs that can be applied to any WordPress page.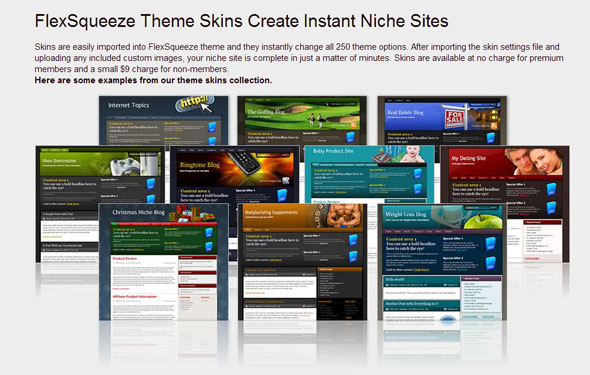 Features of FlexSqueeze WordPress Theme :
Access to over 250 sale page graphics and images.
Over 300 theme options.
FlexSqueeze is more than just sales pages.
Full-width header, footer and navigation.
AdSense-optimized one-click page layout.
Price : $127
Buy FlexSqueeze
Get Free WordPress Setup
4. Convertible
Convertible is a new take on the classic sales page. Landing pages are useful for marketers who have a single product to sell and need to create a page to pitch it to their visitors. A landing page needs to be versatile and customizable, which is why we devised an entirely new way of managing your pages. Convertible includes a custom Drag and Drop page builder that allows you to completely customize your landing page without ever having to touch a line of code.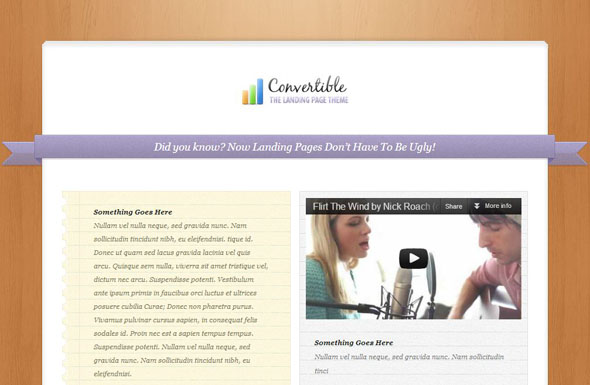 Features of Convertible WordPress Theme :
Perpetual Updates
Valid and secure code from backend & frontend
Complete Localization
Unlimited colors
Drag & Drop Builder
Testimonials and Quotes
Price : $39
Buy Convertible
Get Free WordPress Setup
5. Oceanic
Oceanic Landing Page is a premium wordpress theme for any kind of app or download product – even just a service. This landing page theme take good use of the Z reading pattern to guide the eye around the design and ultimately convert your visitors in to buyers.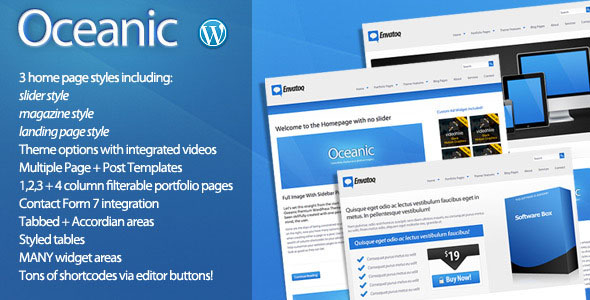 Features of Oceanic WordPress Theme :
Exclusive Custom Admin Panel.
Sortable Portfolio Items.
Tabbed and Accordion Shortcodes.
Custom Ad Widget.
Three home page styles.
Price : $40
Buy Oceanic
Get Free WordPress Setup
Recommended Tools :
Here we recommend some tools and resources so that you can take your sales page, landing page, squeeze page, splash page, bonus page, one time offer page or a product launch page to the next level.
a) Aweber : Aweber is the best email marketing software in the market. Its a must have service for every internet marketer.
b) OptinSkin : Quickly and easily add opt-in forms and social share box on your wordpress blog or website in seconds.
c) Hostgator : HostGator hosts over 8 million domains and it is one of the best web hosting company in the industry. Even WPFix is using Hostgator wordpress web hosting because of its awesome features and support. You can avail free wordpress setup service from wpfix with a purchase of hostgator web hosting.
d) WPfix Setup : You can have WPfix team to setup your gorgeous landing page for more details get in touch with us today.