Best Commercial Buddypress Themes 2012
WordPress and Buddypress allows you to create your own social networking site without any coding knowledge. If you're not familiar with BuddyPress, it's a social network plugin for WordPress allowing your website to become a fully functional community portal. BuddyPress lets your users interract through groups, forums, friends, status updates, private messaging and a lot more. Designing your own social networking site may take many days or in some cases may even cost of many dollars. The alternative way you can use Buddypress ready-made premium themes which can save your time and efforts. Using premium buddypress theme you can have many benefits like attractive designs, optimized coding, advanced control panel, beautiful fonts and colors, shortcodes and much more.
And if you are searching for high quality social networking premium buddypress theme for your WordPress blog? Here we have collected 11 best premium buddypress themes for your social networking WordPress site.
[col_2_3 style="box border box_yellow"]
Do you know : We also setup buddypress sites. Get in touch with us for a free quote today.
[/col_2_3]
1) DynamiX – Premium WordPress Theme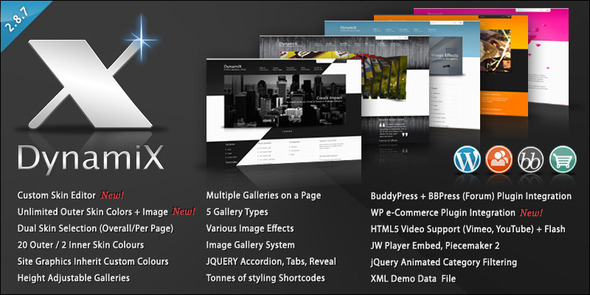 2) Mingle – Multi-purpose WordPress Theme
3) Salutation: WordPress + BuddyPress Theme
4) Storefront Echo: Responsive, BuddyPress eCommerce
5) ReviewIt: Review WordPress & BuddyPress Theme
6) SuperMassive: Business WordPress/BuddyPress Theme
7) Huddle – WordPress & BuddyPress Community Theme
8) Score: Review WordPress & BuddyPress Theme
9) Bounce Responsive Business WordPress And BuddyPress Premium Theme
10) Feature! A Community Magazine Theme
11) Game Portal WordPress & BuddyPress Theme
12) Play – Buddypress Theme for Community Magazines
13) Squared Responsive Premium WordPress And Buddypress Theme
14) WildCommunity WordPress and BuddyPress Theme
This article was last updated on 25th october 2012.